Mini aggregates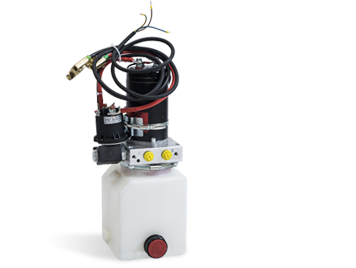 These power units are especially intended for lifting platforms (decks), machine tools, handilng devices, water and steam power stations and for small presses.
Power units with central pressure flange about dimensions 100x100mm and 130x140mm.
These power units are equipped by check valve and pressure valve, for requirement of customer it is possible to additionally equip by valves for control of flow rate and pressure including proportionally controlled.
Includes even gear hydrogenerator (gear pump) with guaranteed noise parameters and geometric volume ranging from 0,16 to 9,8 cm3/rev.
Operating pressures are in the range from 0,5 to 35 MPa, power consumptions are in the range from 0,18 to 4 kW.
Drive is possible to implement in version with DC electromotors, single-phase and three-phase electromotors.
This wide array of basic parameters is following by many tanks made from sheet metal in volumes from 1 to 60 dm3 for various locations of instalation and next by the tanks made from plastic in volumes from 1 to 12 dm3.
Part of some versions are pressure and return filters, standardly are used sution filters.
Do you have a question?
CHARVÁT HYKOM s. r. o.
Plzeňská 2726
269 01 Rakovník
Czech Republic
ID: 62956256
VAT ID: CZ62956256
Phone No: +420 313 515 923
E-mail: hykom@charvat-hykom.cz